About Us
Adding a custom fiberglass pool to a home can bring joy for decades and greatly improve property value. That is when it is built properly using only the best shells and equipment found in the industry.  If not, it can be headache after headache. With so many pool builders out there, it's hard to know which have the training, qualifications, and trust factor you're looking for. Let us help ease your mind!
Meet Tony.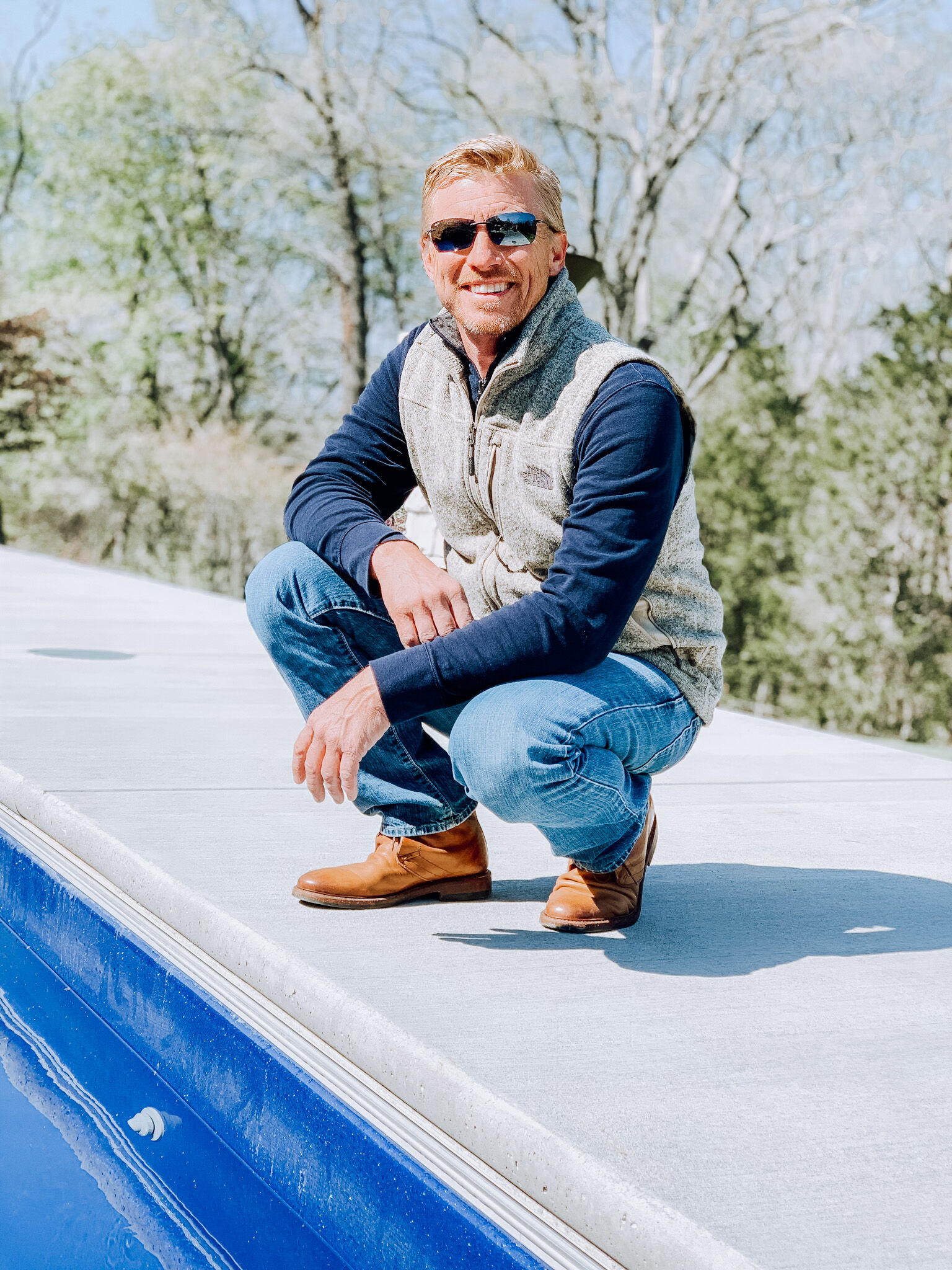 Tony's philosophy to fiberglass pool design and installation is that it shouldn't feel stressful! It's our job to make the best fiberglass pool money can buy, and your job to make the best memories with your family. We live our day-to-day by our core values, the 6 C's of Sanctuary.
The 6 C's of Sanctuary:
COMPREHENSIVE.  We are experts at every step in the custom fiberglass pool construction process.   From determining the perfect design and location, to construction and clean-up, we build your pool as if it were ours.  And we complete each step in the process thoughtfully, and never cut corners to save time or money in the near term at the expense of long term value.  
CAPABLE.  The pool building industry is fraught with many of the same problems that plague the construction and contracting industry:  many of the so-called professional builders are untrained, unqualified, and untrustworthy.  At Sanctuary Pools we pride ourselves on our expertise, and it's not lost on us how much our work impacts your near term quality of life and long-term property value.  It's our job to make the best pool money can buy, and it's your job to make the best memories with your family.
COURTEOUS.  We continually strive for our fiberglass pool building experience to be best in class. We know that starts with being courteous, and we're courteous because we care. A big part of being courteous is doing what we say we will, from showing up on time, to educating our clients on what to expect, to completing each project on time and on budget. We are a local, family owned business providing our service to other local families. Community is important at Sanctuary Pools and we treat your family like our own.
CONSCIENTIOUS. Adding a custom in-ground pool to a home can bring joy for decades and greatly improve property value. That is, when it's built properly. If not, it can be headache after headache. Pool construction is a significant project, so it's imperative that your builder consider all aspects. At Sanctuary Pools, we start with a holistic survey to ensure that the pool fits perfectly with the layout of your property and all necessary steps are carried out properly by expert pool construction artisans. Furthermore, we are conscious of the effect that the construction has on your property. Our thoughtful process allows for minimal mess, allowing you to enjoy your home throughout the build, and when we're finished, we'll leave your landscaping better than how we found it.
CARING.  Sure, we make our living bringing joy to your family by building the region's best pools. But we're certainly not in it just for the money. At Sanctuary Pools, we pride ourselves on bringing a vision to life, whether it's yours, ours, or a combination of the two. We listen carefully with our whole selves and take extra steps to ensure your wants and needs are accounted for to build your perfect outdoor oasis. We are more than pool building professionals, we are caring people.
CREATIVE.  We're not just pool builders, we're landscape artists. Every pool we build is special, and a reflection of the family who commissions us to create it. We're designers, builders and problem solvers. Our pool construction know-how let's us take on projects of all complexities, whether in a problematic landscape, with a utilities challenge or intricate visual design. You can count on Sanctuary Pools to deliver a perfect pool every time.
Be sure to follow us on Facebook, Instagram, and Our Blog to keep up with our latest projects.
Client Testimonial:
"We worked with Tony to build our new pool. He completed the project on time, within budget and just the way we wanted.  We contacted 5 contractors about our project, Tony was the most responsive. We would highly recommend Sanctuary Pools to anyone wanting a turnkey pool project."

D. Schetzel